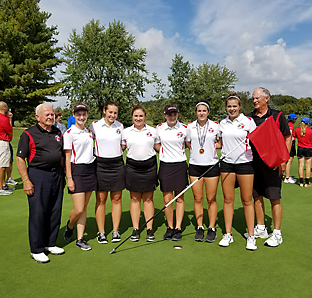 Hank Oakes Biography
Hank Oakes, Golf Teaching Professional, has over thirty-five years of golfing experience. He is a fully certified Master Golf Instructor and Examiner by the United States Golf Teacher's Federation(USGTF). Hank's goal for everyone he teaches is to"Make Golf Fun For a Lifetime." He is bringing the On Target Golf School program to the locations in Ohio where he has been teaching. Hank has helped hundreds of students to better their game through private and group lessons. When working with students he quickly assesses their ability and identifies the fundamentals that will enhance each person's game. The goal of the lessons is to turn bad habits into winning strokes. He specializes in swing fundamentals and how they directly relate to the golfer's long, short, as well as their putting strokes.
Hank has developed the ability to assess the basic swing issues with scratch players, middle handicappers, and first time players. First time players need the proper fundamentals to assure they start with the right essentials to enjoy the game. Keeping the student in the right frame of mind with a good attitude about the game is significant.
Over his many years of playing and teaching, Hank has developed a passion for taking people with flaws in either their preparation, setup, or swing and worked with them to establish correct golfing habits and strokes so they improve. Learning these essentials will lead their game toward the enjoyment that results from good habits. This will start lowering their scores and handicap immediately. Hank brought private and group lessons to the Dayton/Springfield/Tipp City area. Both have been very well received and all who have attended have seen their golf games improve. At the conclusion of the sessions, they were all wondering why they had waited so long to take these lessons.

"Seeing someone's eyes when they hit that first high, long, and straight shot is gratifying to me." Being able to continue hitting high, long, and straight shots is dependent on the students changing their swing by training their muscles to swing the club head in the proper direction.
"Making golf fun for a lifetime",is what I would like for everyone attending my classes" ---Hank Oakes
Recently Hank and a few of his students won the 2008 Guaranteed Golf Pro-Am Challenge Match. As an amateur, Hank won the Wright-Patterson AFB, Prairie Trace Golf Course Senior Stroke Play Championship and also played on an amateur tour in Ohio and Kentucky. Hank holds a Bachelors and Masters Degree in Management.
Hank Oakes
(937)572-4439
oakesh@aol.com